HFC-227ea gas fire fighting equipment made in China FM200 automatic fire suppression system
Description
Fm200(hfc-227ea) is a kind of colorless and tasteless and non-corrosive and electricity-insulating gas without residue and pollution after extinguishing. And ODP of it is zero. It is a friendly-environment gas to be used for extinguishing. Also, because of such feature, it can be used in special place where electrical fire is easy to happen.
Combined with extinguishing device and electronic accessories, the whole system can be actuated automatically. It can monitor the situation of protective region through detectors and then it can also start the extinguishing device through solenoid actuator automatically. So the whole system can achieve automation totally. Therefore, it can avoid that there is no one who notice the fire when it happens and also it saves much money for employment to supervise the protective area.
Parameters
NO.

Specifications

Parameters

1

Cylinder capacity

40Ltr,70Ltr,90Ltr,100Ltr,




120Ltr,150Ltr,180Ltr

2

Device model

GQQ40/2.5

, GQQ

70/2.5

, GQQ

90/2.5

, GQQ

100/2.5

, GQQ

120/2.5

, GQQ

150/2.5

, GQQ180/2.5

3

Filling pressure

2.5Mpa

4

Max filling rate

0.95kg/L

5

Discharge time

≤10s

6

Working temperature

0ºC~50ºC

7

Max working pressure

4.2Mpa

8

Discharge pressure

5.6±0.28Mpa

9

Proportion of protected zone

≤500m²

10

Volume of protected zone

≤1600m³

11

Actuation

Automatic or manual start
Cabinet Size
Specification

Size(mm)

Volume(

cbm)

Net weight (kg)

GQQ40/2.5

450*400*1450

0.261

33

GQQ70/2.5

550*450*1650

0.408

43-50

GQQ90/2.5

550*450*1650

0.408

43-50(46)

GQQ100/2.5

550*450*1650

0.408

55-64(54)

GQQ120/2.5

550*550*1900

0.575

60-73(60)

GQQ150/2.5

550*550*1900

0.575

80

GQQ180/2.5

600*550*2150

0.71

80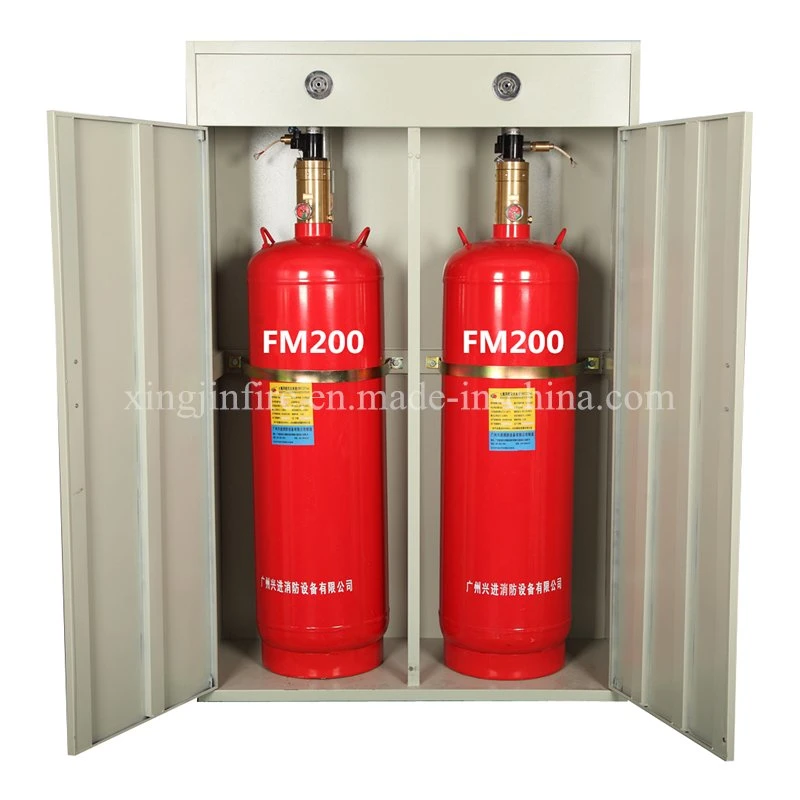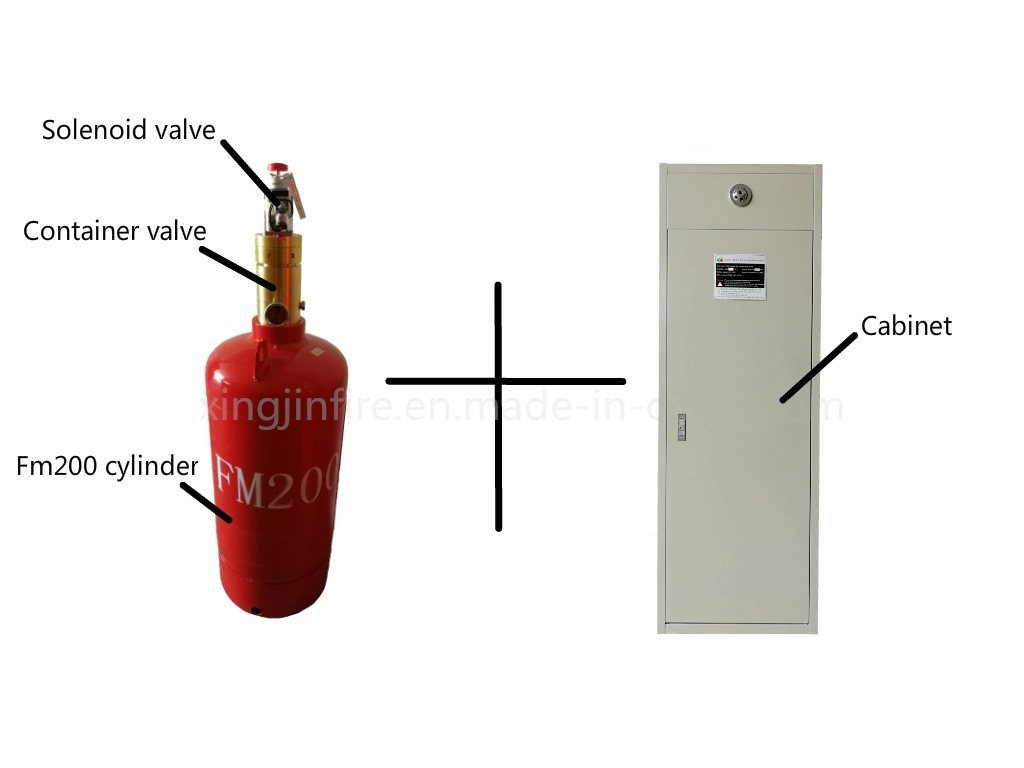 Components
Actually, a complete one set system contains two parts: the extinguishing device(the whole composition is like the photo beside) and electrical elements.
One set cabinet type fm200 fire suppression device is formed by the following components: fm200 agents, a fm200 cylinder, a hoop, a cabinet, a container valve, a solenoid actuator, a flexible hose(high pressure hose), nozzle(s) and pressure switch.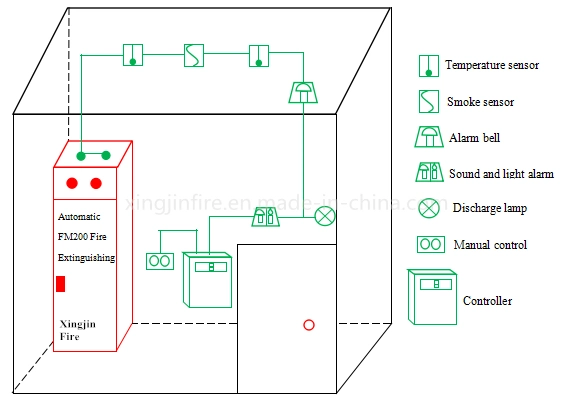 Application
Computer room, telecommunication room, transformer room, electrical switch and distribution room, generator room, leaching tank, drying equipment, paint spraying booth, electrical instrument room, control center, library, archives, treasure trove of cultural relics, etc.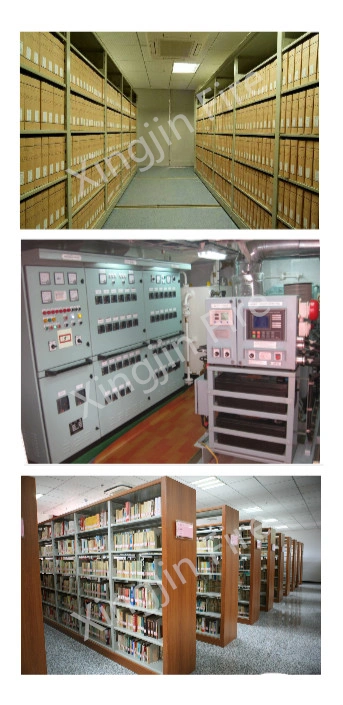 Packages
We pack products with first polyfoam and then the wooden cases. Once products are too big or customers require a pallet for products, we will make products a pallet. The following pictures are the common packing of products: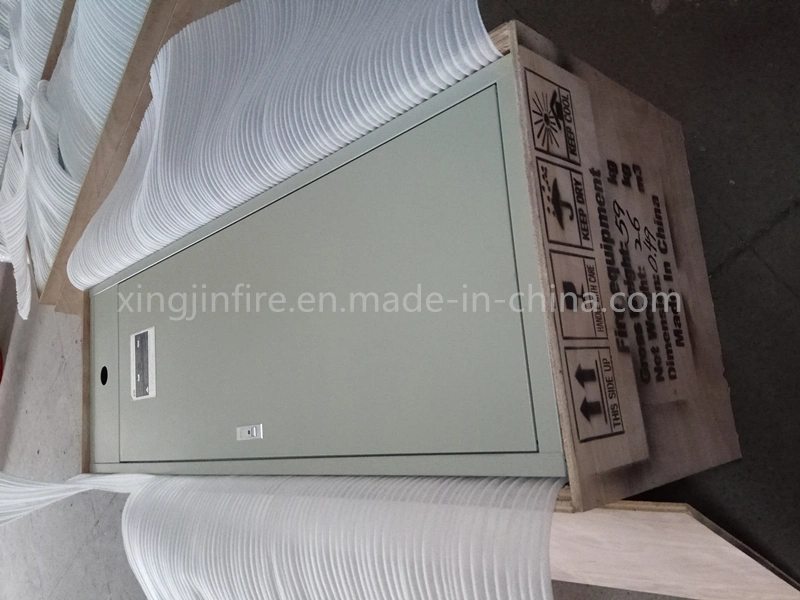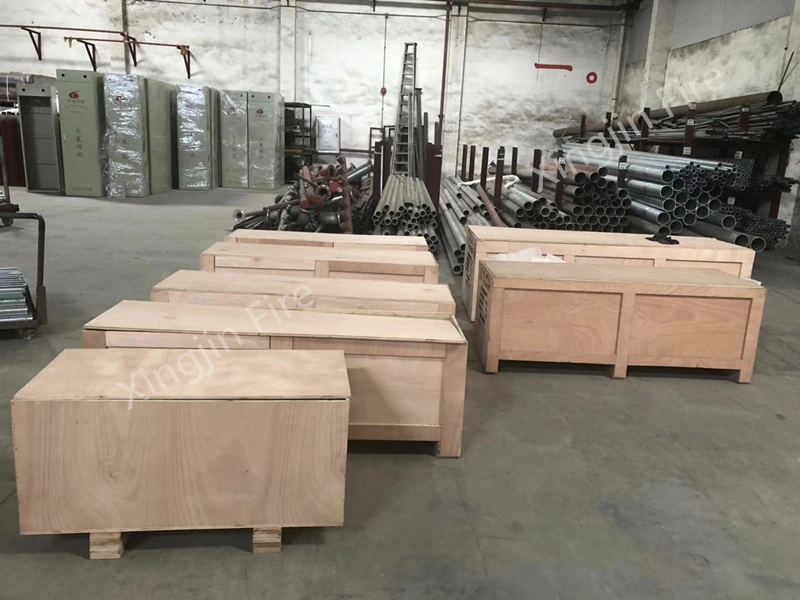 Company Introduction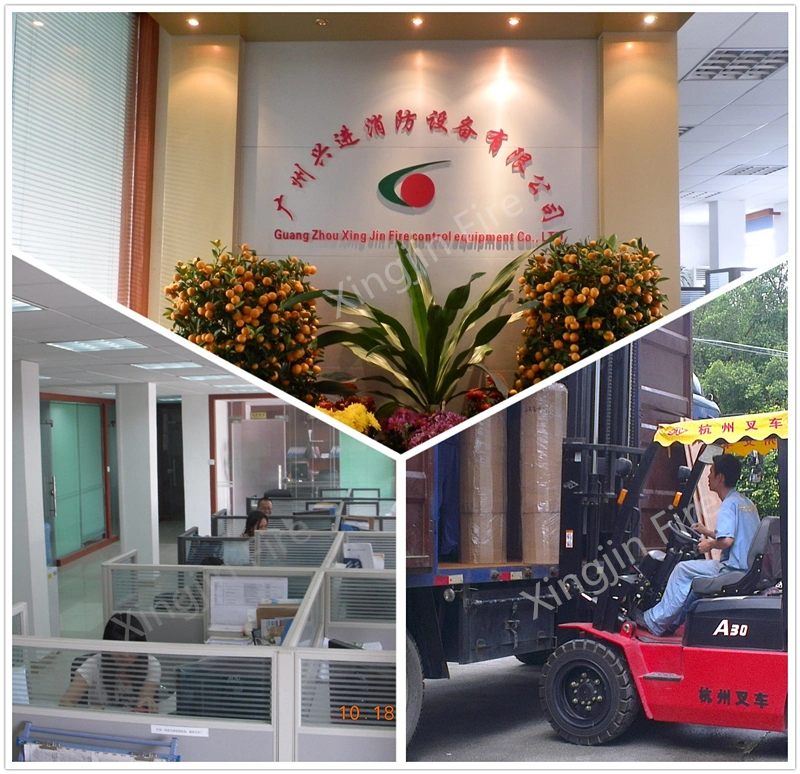 Guangzhou Xingjin Fire Equipment Co., Ltd., surrounded by convenient transportation and beautiful environment, is located in Guangzhou, which plays an important role in communication between China and the world. We are a manufacturer, and we devote ourselves to the study and development of HFC-227ea (FM200) productions with our professional and mature team including the program design team, the skillful installation team, the quality detecting team and the after-sell service team. Nowadays, our popular fm200 products are widely used, such as the pipe network FM200 fire suppression system, the cabinet type FM200 fire suppression system, the automatic FM200 fire extinguisher
(ceiling mounted style), the fire detecting tube suppression system and automatic fire suppression tube. As a result of high-quality products and services as well as the good reputation, our company is well-received by the customers in China.
Part Cases Show
• In Sichuan province, the project cases are Bei Xin Run Yuan, Dong Lu Yi Jing, Yuewang Tower, Times Flower City, Shude Middle School, Wal - Mart near ASCB, New Hope Building, Xin Yi Zi Jin City, Tobacco Building, etc.
• In Guangdong province, the project cases are GAC Group, 10086 in Shenzhen, Haizhu Industrial and Commercial Bureau, Wanbao Air Controller, Yingfu Building in Shenzhen, Bank of Communication in Zhanjiang, Lijin Square in Zhanjiang, Zhanjiang Broadcasting and TV Station, etc.
• In Shandong province, the project cases are Lushang Office Building, Lushang Marketing Center, etc.
• Part in Sichuan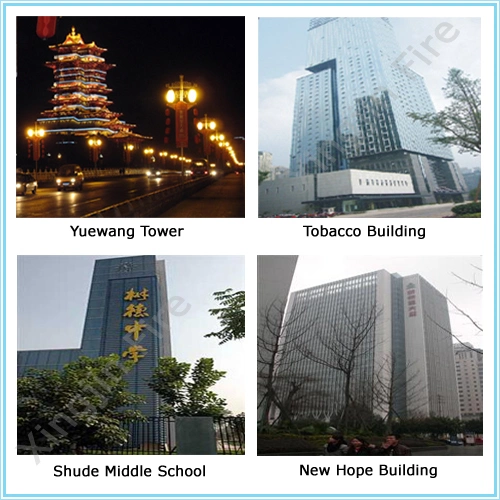 • Part in Guangdong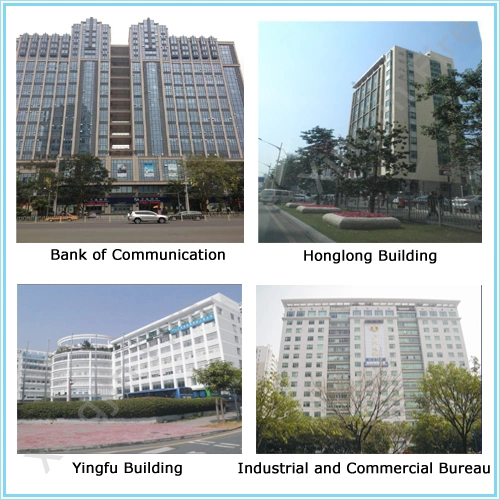 • Part in Foreign Country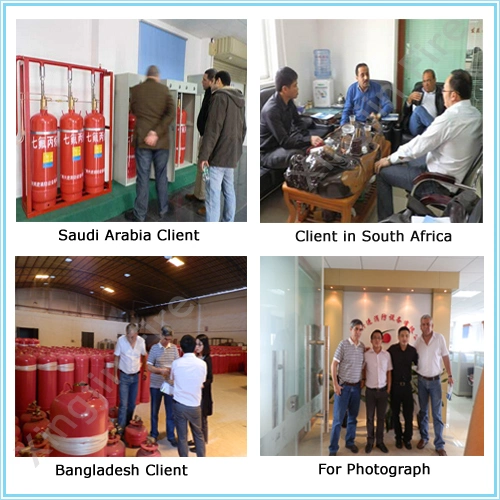 Why Choose Us
• 5 years quality guarantee
• Xingjin is running in a high efficiency management system
• Advanced equipments & professional engineers to promise all products are quite satisfactory.
• We provide 8×6 hrs technical support and service.
After-Sale Service
• We have an efficient sales and after sales team to promise slove all client's question in time.
• We provide 8×6 hrs technical support and service.
FAQ
Q1: Are you a manufacturer or a trading company?
A1: We are a manufacturer.
Q2: Is OEM products available?
A2: Yes, we welcome your own design and drawing.
Q3: Where is your factory? Can I visit it?
A3: Our factory locates in Shilou, Panyu, Guangzhou, Guangdong, China.
Of course yes. We always welcome and wait for your visit.
Q4: How can I get to your factory?
A4: Because of the convenient transportation here, you can take a taxi or come here by subway. If you come here by subway, you need to take the line four
and get off at Shiqi station. Then walk out the
station for taking No. 126 bus and get off at Yuexi st
ation.