Puncture-Resistant Fireman fire fighting equipment Slip-Resistant rubber boots for footwear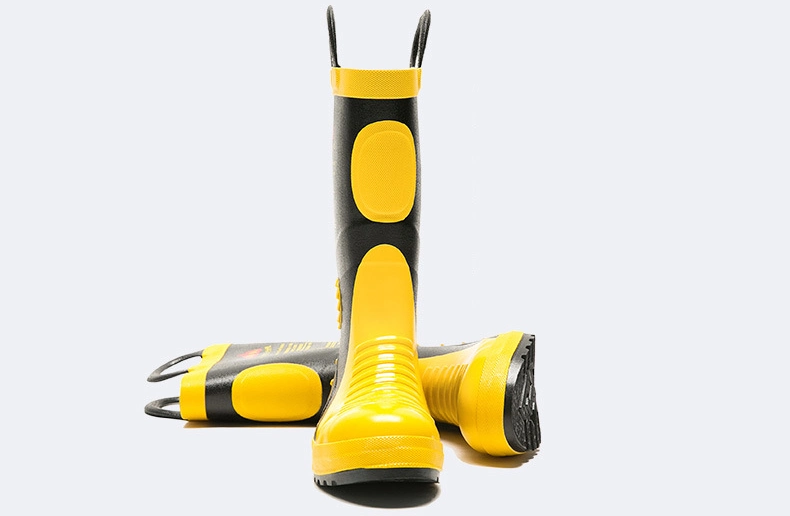 1.Fireman rubber boots Application
Firefighters protective rubber boots are firefighters conventional personal protective equipment.Wearing the boots can access to the general fire site, the scene of the accident for the fire fighting and rescue work.

2.Fireman rubber boots Main performance & parameters
Structure: firefighters protective rubber boots is mainly composed of two parts soles and boots, the main color is black, with yellow round bar, welt, etc.The whole of boot adopts multilayer structure.
Head of Boots with steel to improve the safety performance. Around the steel, has insulating rubber layer inside and outside, the sponge layer, insulating paper, foam and comfortable and comfortable cotton cloth lining, etc., which has the insulation and wearing comfortable.
Soles with steel bottom, in order to improve the puncture proof performance, bottom up and down in the steel has a comfortable rubber insulation, insulation paper, foam layer on both sides and interlock lining, outsole with rib can prevent slippery.
From uppers surface to openning, between the rubber layer and the interlock lining increased the sponge layer, good insulation, flame retardant, insulating, stays at the same time can improve the wearing comfort.
Weight: the quality of each pair firefighter protective rubber boots is less than 3 kg.

Fire Fighting Fireman rubber boots Physical and mechanical properties:
ITEM

INDEX

Breaking strength MPa

rubber

Outter bottom

Elongation at failure %

≥14.7

≥10.78

Pull a permanent deformation %

≥480

≥380

Abrasion loss (akron)cm3/1.6km

≤40

--

Strength (Shore A)

--

≤0.8

Brittleness temperatureºC

55-65

55-70

The hot air aging(100ºC×24h)

≤-40

≤-40

Breaking strength decreased %

≤35

≤35

Flame retardant properties (GB/T13488) grade

FV-1

FV-1

The adhesive strength of uppers and fabric N/mm

0.78

--

Shoe thickness mm

≥1.5

--
Fire Fighting Fireman rubber boots Features:
Material

Polythene Rubber

steel plate pierce resistance

≥1000N

Size

38-46

Oil-resistant Property

10%

Weight

3.0kg

Anti-smashing properties

static pressure≥15mm, impact ≥15mm

Highth

34cm

Heat insulation property

≤22C

Leakage current

<3Ma

Resistance to heat permeability

≤22C

Slip resistance

≥15º

Withstand voltage

≥5000V
Specifications have 9 kinds of 39-45 code
Standard: Meet GA6-2004 standard for firefighters extinguishing protective boots.