1. Material: SMS(Spunbond-Meltblown-Spunbond Non-wovens)
2. Characteristics: Anti-pull, environmentally-friendly, good tensile strength, feeling soft, non-toxic, water-resistant, air- permeable
a. SMS barrier fabric is a unique trilaminate construction that offers a high tensile strength and toughness that is also soft, drapable, and easy to work with. SMS provides a fluid and particulate barrier to protect the worker without sacrificing mobility and comfort.
b. Spunbond layer is consist of continuous filament, with good tensile strength and elongation, Melt blown layer is consist of continuous micro fiber
3. Can be customized with different weight of material and color
4. Sanitation and quality in accordance with the CE, FDA, ISO9001 standard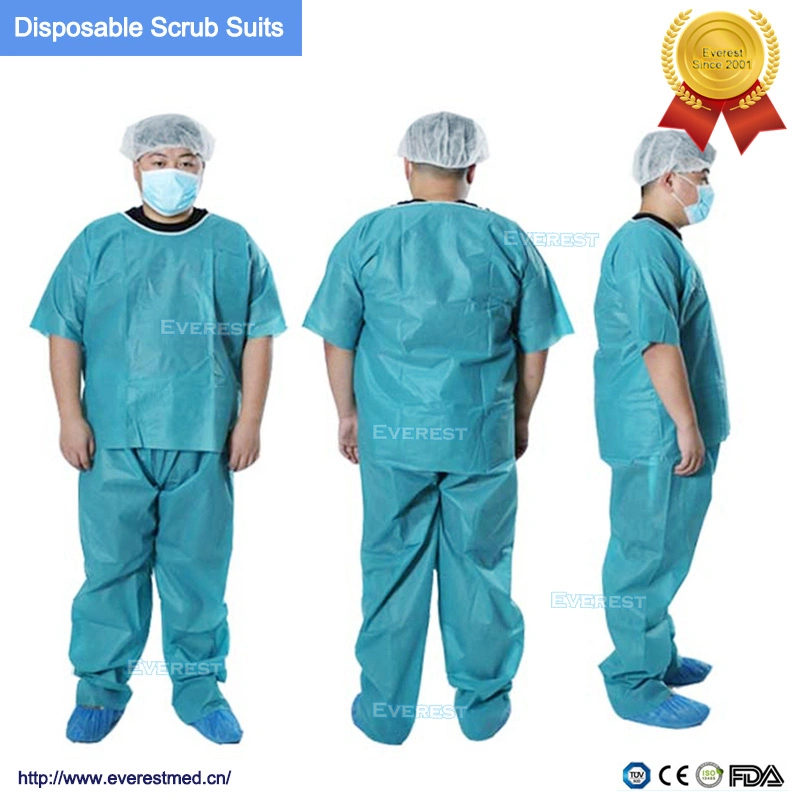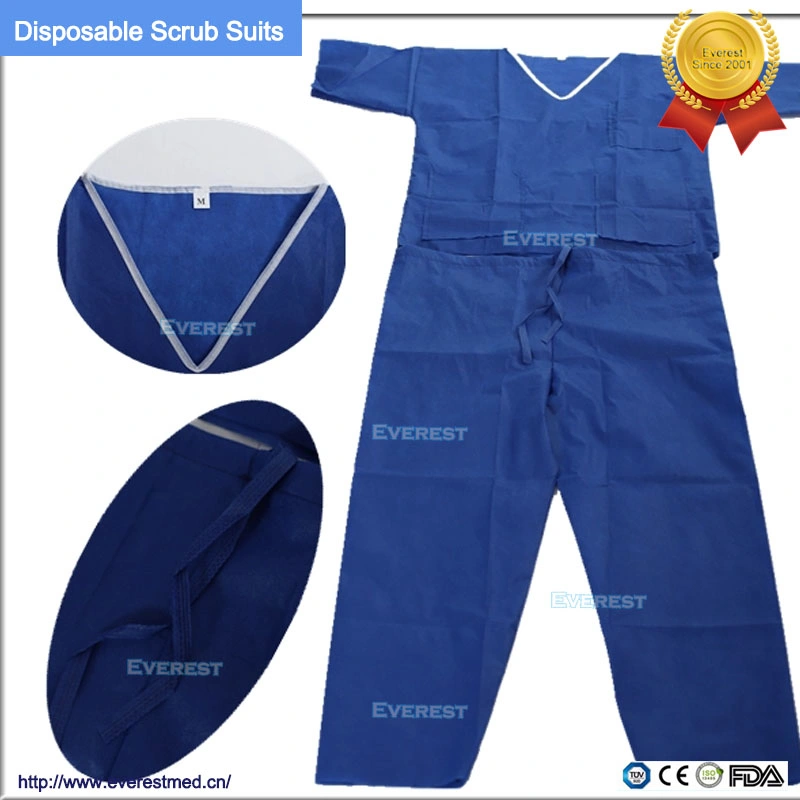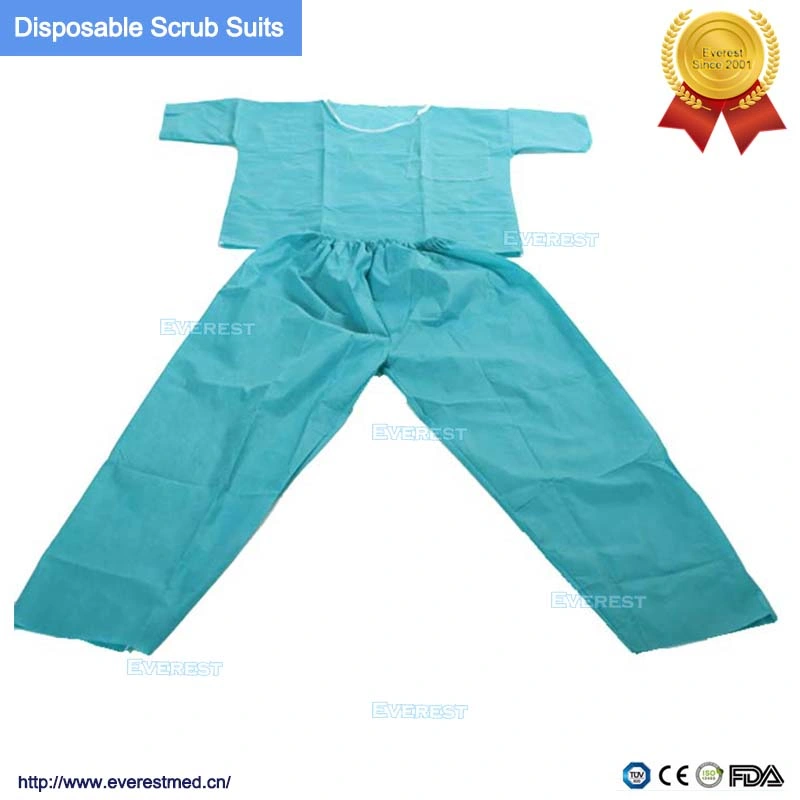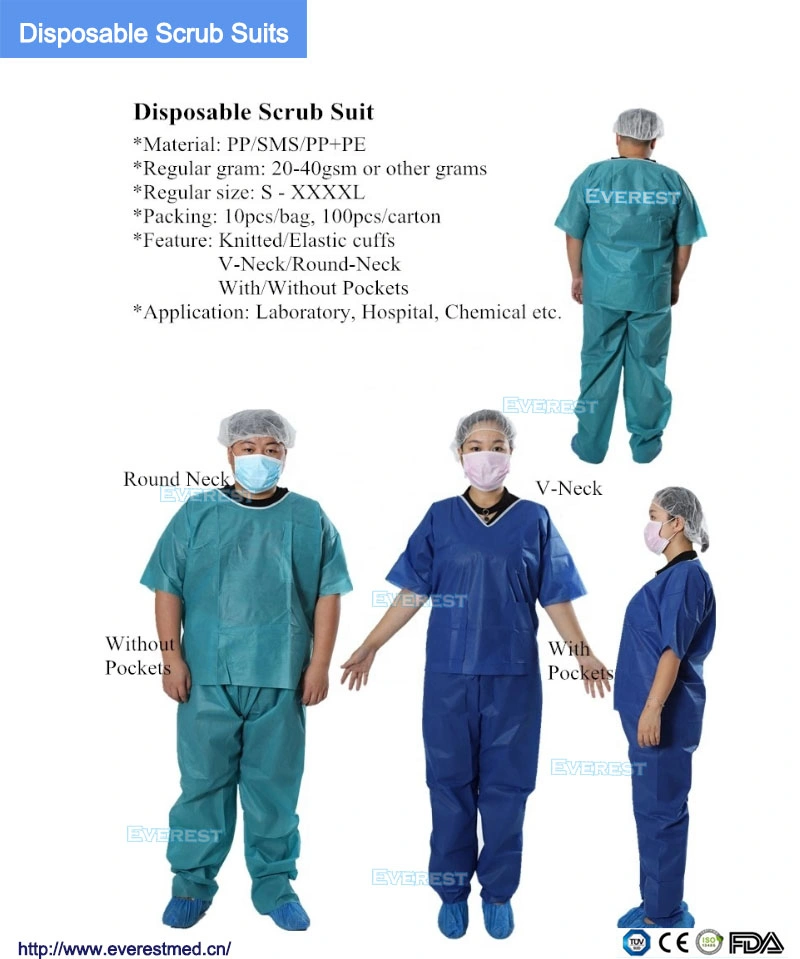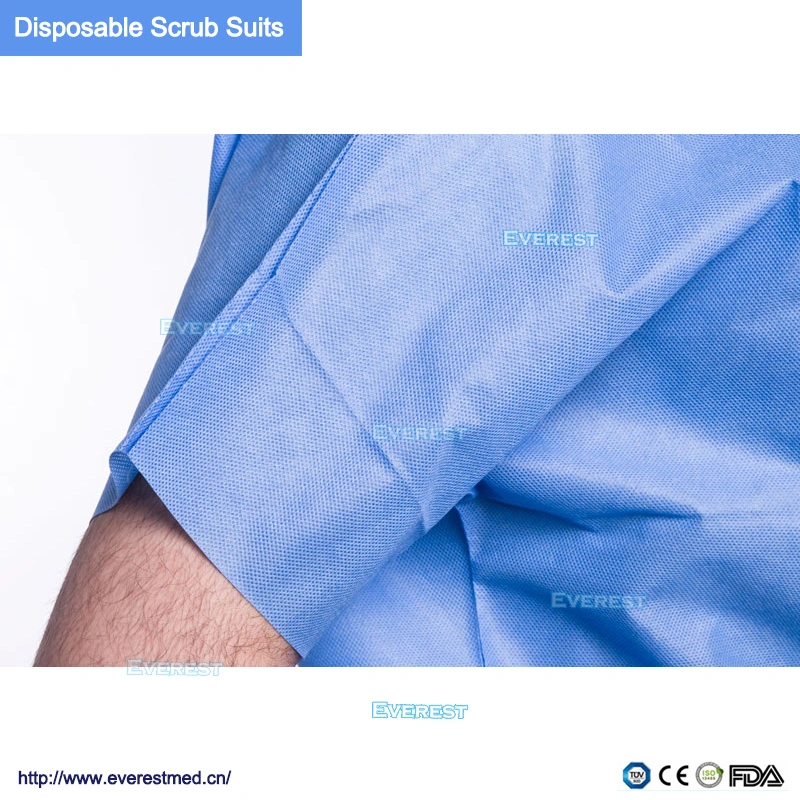 Disposable scrub suits Useage:
Disposable scrub suits be used in hospital for protection. Prevent and isolate alcohol, blood, bacteria and virus . Prevent the cross infection in medical treatment at sanitation field. Economical and disposable.
Other Products We Sell:
1. Cap:
1.1. Bouffant cap
1.2. Doctor cap: (surgical cap with tie/surgical cap with elastic)
1.3. Strip cap
1.4. Space cap
1.5. Peak cap
1.6. Round cap with fringe
1.7. Shower cap(PE)
2. Body wear:
2.1. PP/CPE Isolation gown: (With Knitted cuff/Elastic cuff)
2.2. Surgical gown: (Sterile/Non-sterile)
2.3. Lab coat: (PP/SMS)
2.4. Coverall: (PP/SMS/PP+PE)
2.5. Scrub suit: (PP/SMS)
2.6. Sauna suit: (PP/SMS)
2.7. Patient gown
2.8. Pants: (Man/Woman)
2.9. Brief: (Man/Woman)
3. Shoe cover/Boot Cover:
3.1. Non-woven shoe cover/boot cover
3.2. Non-shid shoe cover/boot cover
3.3. PE shoe cover/boot cover
3.4. CPE shoe cover/boot cover
4. Face mask:
4.1. Face mask with ear loops: (1ply/2ply/3ply/4ply)
4.2. Face mask with ties: (1ply/2ply/3ply/4ply)
4.3. Active carbon face mask: (3ply/4ply)
4.4. Face mask with eye shield: (3ply/4ply)
4.5. Dust mask: (120g/140g/160g/180g)
4.6. Paper mask: (1ply/2ply)
5. Other Main Products:
5.1. Gloves( HDPE/LDPE/CPE/TPE)
5.2. Apron: (Non-woven apron/PE apron)
5.3. Sleeve cover: (Non-woven sleeve cover/PE sleeve cover)
5.4. Bed cover/Bed Sheet
5.5. PE hair-cut cape
5.6. PE ear cover
5.7. PE raincoat/poncho
5.8. Wipe cloth/surgical dressing
5.9. Pillow case
5.10 Clear face mask