Firefighting UAV Working Together with Payloads Fire Extinguishing Bombs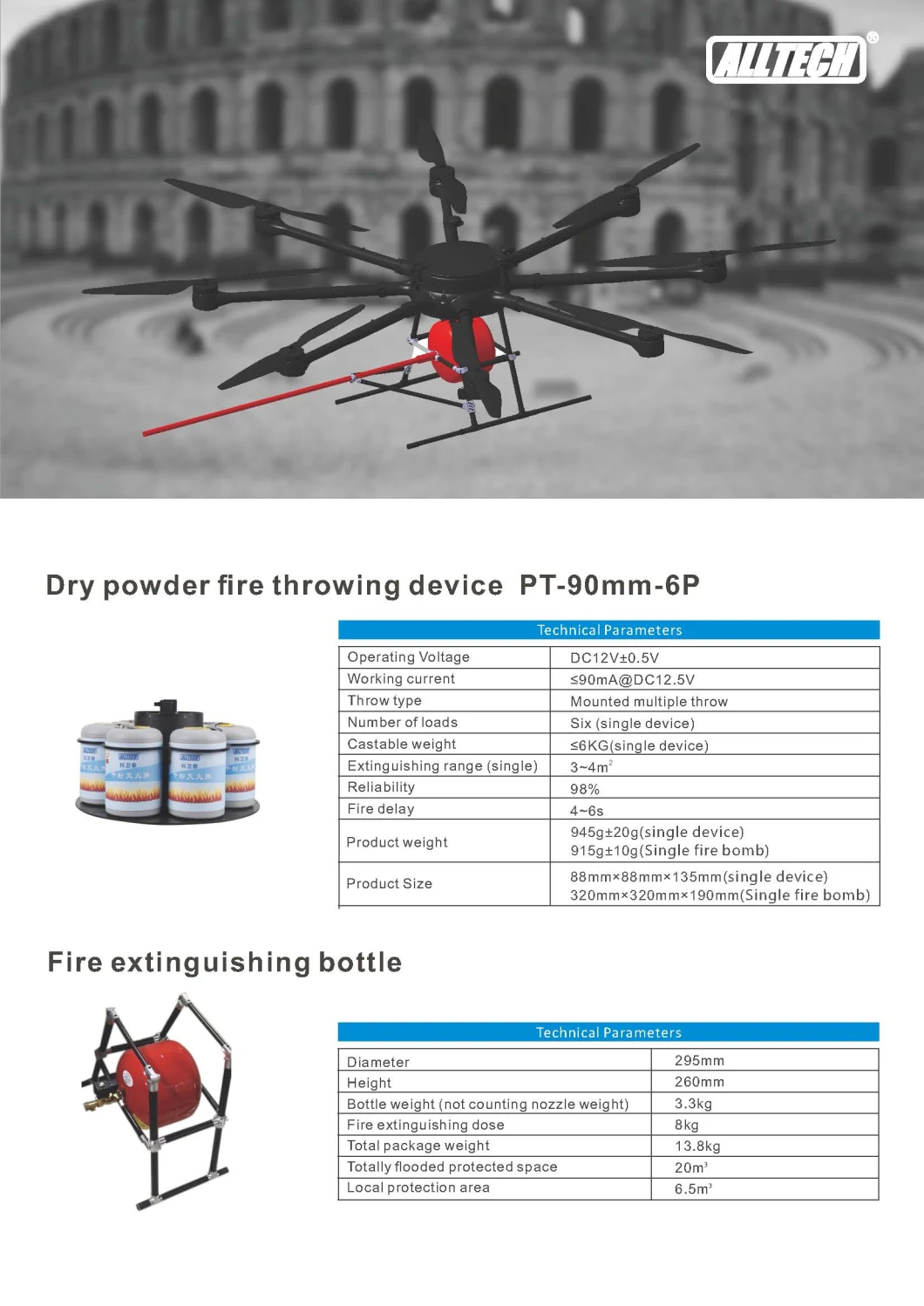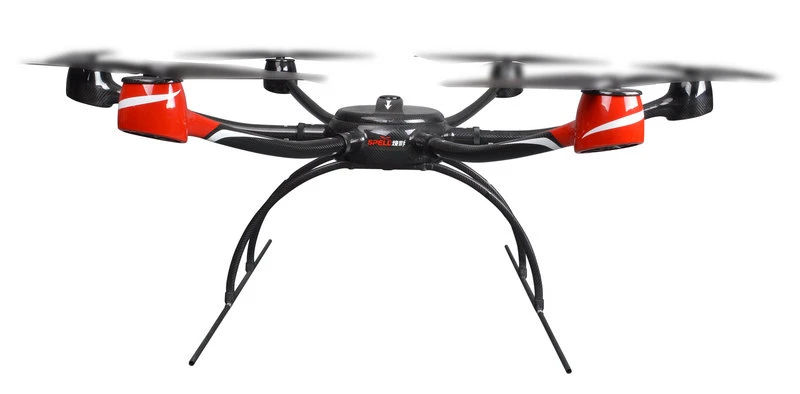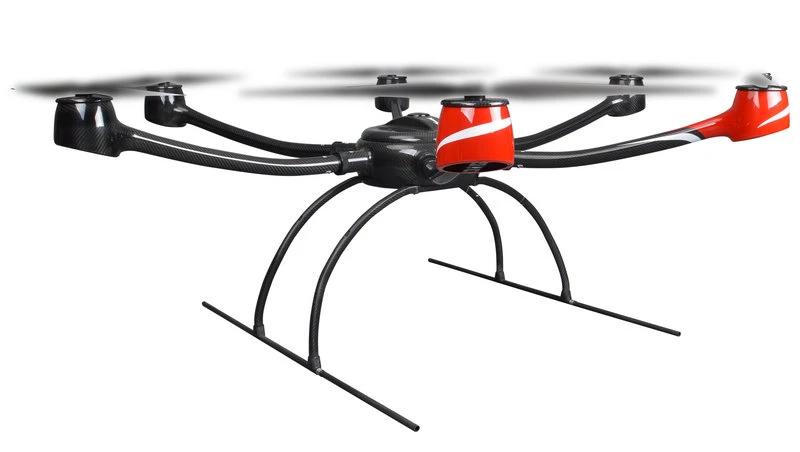 Product Features
Carbon fiber integrated molding with high rigidity and light weight; supports more than 65 minutes flight time.

Innovative upturned arm design for flying stability and strength, ensuring wind tolerance up to 14 m/s.

Able to fly at elevation of 5000m (16500 ft).

Full HD 1080i/P real time video transmission.

Detachable structure, get ready to fly within 5 minutes.

Highly integrated rainproof gimbal unit with good rain performance.

Intelligent flying control system, supports manual precision control and autonomous flight.
Technical Parameters

Diagonal wheelbase

1600 mm

Standard take-off weight

9.8 kg

Max take-off weight

14.4 kg

Max payload weight

≥5 kg

Flight time

≥65 min (@9.8kg)

Wind loading rating

14 m/s

Max flight speed

15 m/s

Relative flight speed

1000 m

Max working altitude

5000 m

GPS position accuracy

vertical: ±1.5 m
horizontal: ±2 m

Remote control distance

7 km(up to the environment)

GS control distance

10 km

Center Frame Packing Case Dimensions

1150 x 440 x 500 mm

Frame Arm Packing Case Dimensions

1120 x 540 x 380 mm



3-axis Ternary Camera payload YT-3G-30X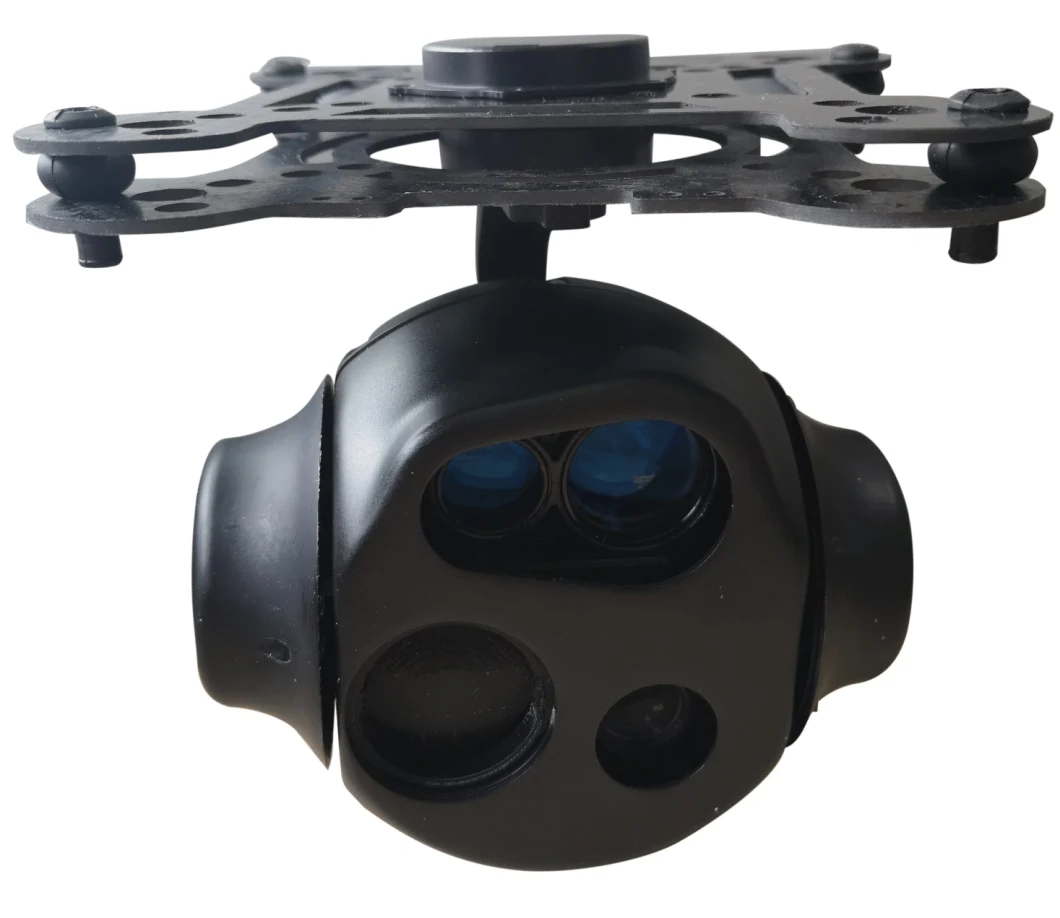 Features:
30* optical zoom;

1080P HD output;

Real-time switching of visible and thermal imaging video;

Direct control of drone signals, integrated transmitter for video compression encoding and real time HD output;

Pointing zoom function;

Temperature detection and alarm function, ranging function, target positioning and tracking function;

The control speed is automatically adjusted according to the focal length to ensure the user experience.
Technical Specification

Power supply

Working voltage

DC11V~DC13V

Maximum current

2.1A@DC12V

Gimbal

Gimbal title angle

-90°~+30°

Gimbal yaw direction

±165°

Angle control accuracy

±0.02°

Maximum angular velocity control speed

Pitch: 12°/s, yaw: 12°/s

Target positioning

Self-contained laser ranging module, the farthest distance measurement is 1.5KM, and the positioning accuracy radius is 25M.

Tracking function

With target tracking function, it can track selected people or objects.

Transmitter

Working frequency range

328~352MHz/560~760MHz/
(See the body label for details)

RF bandwidth

2/3/4/6/7/8MHz

Output power

12~30dBm adjustable, step 1dB

Power flatness

Full band ≤2dB, ≤1dB within 8MHz

C/N

≥28dB @ 27dBm

SHG

>52dBc

RS232 data interface

Standard RS232 level,
support 1200~115200 bps

Encryption

AES128/AES256

HDMI

Version

HDMI 1.4a

resolution

1080P30

Encoding

Audio and video bitrates

64,96,112,128,160,192,224,256,320,384Kbps adjustable

Audio coding

Mpeg1 Layer 2

Format

YCbCr4:2:0

Video coding

H.264

Video bitrate

500kbps~16.68Mbps adaptive

Encoding delay (end-to-end)

Minimum 300ms (with low-latency receiver)

HD camera

Sensor

(30*zoom) 1/5.8 inch, CMOS

Total pixel

2.16 megapixels

Resolution

1920(H)X 1080(V)

optical zoom

30*zoom

Aperture

FNO:1.5-4.0

Video compression

H.265/H.264/H.264H

HDMI output

Default 1080 P30

Thermal Imaging

Detector type

Amorphous silicon infrared micrometer

Pixel spacing

17 μm

Resolution

640(H)×480(V)

Response band

8~14μm

Lens focal length

25mm

Electronic zoom

Maximum 8*

Laser Ranging

Wavelength

905nm (human eye safety)

Irradiation distance

3-1600M

Beam divergence angle

3.2mrad

Laser ranging distance

1.5m

Environment




Working temperature

-40°C~60°C

Storage temperature

-45°C~65°C

Humidity

Working normally in a hot humid environment of 70% ± 2% @ 40 ° C

Physical size

(30 *zoom)
L* W* H: about 146 * 146 * 177mm;

Weight

1.0kg ± 0.05kg
Handheld Ground Station K2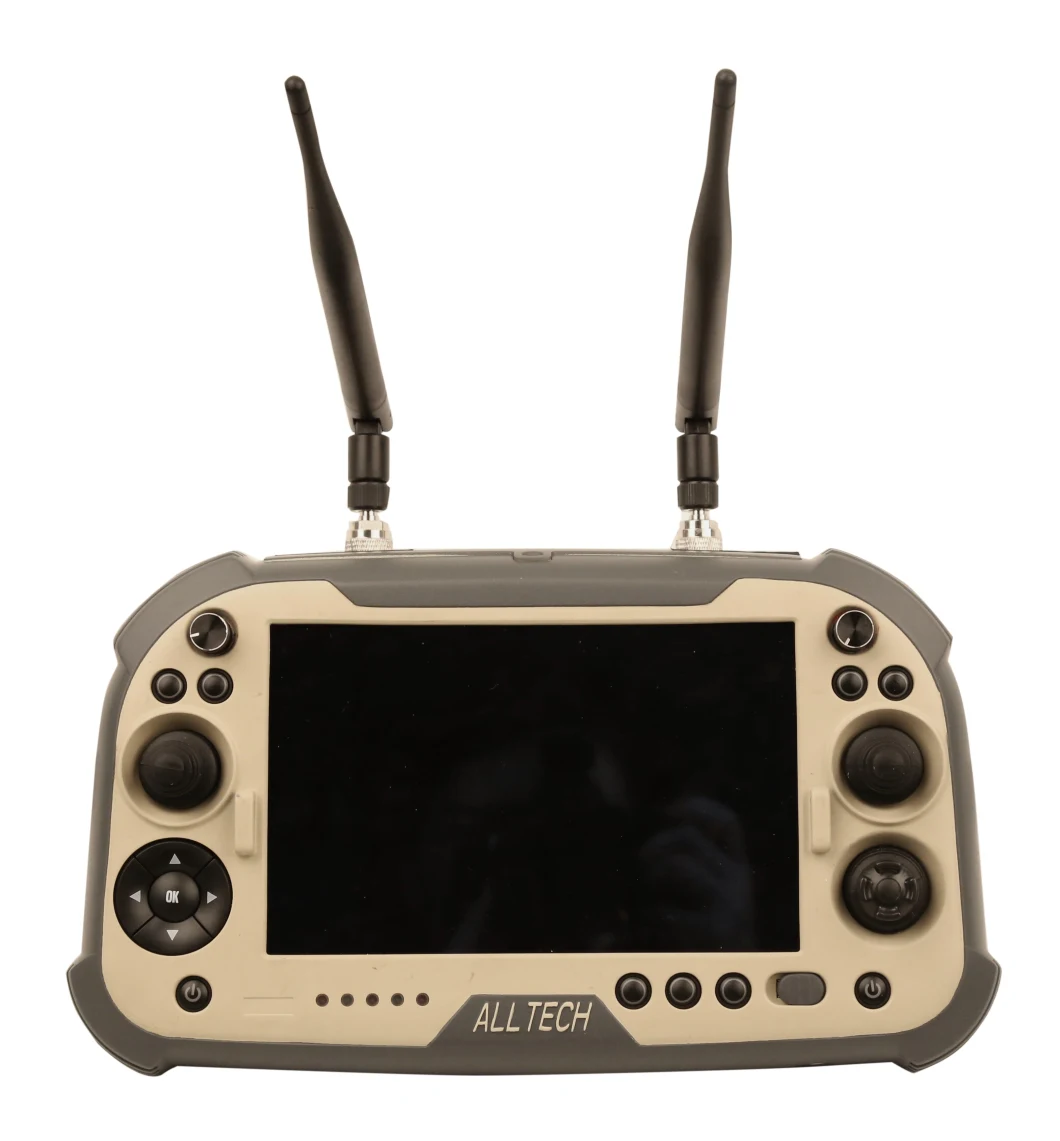 K2 is a handheld ground station integrated with industrial three-proof computer and digital radio remote control system. It supports dual-system platform software development with functions of drone and gimbal payload remote control, real-time flight status and remote state feedback, and route planning. Industrial-grade computer and military-grade transmission links not only ensure the safety and stability of aircraft control, but also guarantee the easy operation and portable transportation.

Features:
Google Earth full-screen display, precise setting of waypoint tasks and support for real-time modification of waypoints, flight path/critical event SD card storage and information playback;

Support one-button take-off, one-button cruise, one-button return, one-button landing, emergency landing and other shortcut keys, friendly operation interface, full voice alarm prompt, support automatic route planning, tilt photography parameter setting, remote flight control;

The ground station system adopts embedded processor with powerful performance, smooth operation, low power consumption design and long working time;

Support H.264/H.265 HD real-time decoding and multiple code stream transmission protocols;

The device adopts 8-inch screen with 1280*720 resolution, high-sensitivity capacitive touch screen; support glove touch & waterproof touch, and is easy to operate;

Internal integrated with data transmission link; low power consumption, intelligent frequency hopping and strong anti-interference; the effective control distance 5km;

It has a communication expansion interface, which can be connected to the individual combat system through the interface to realize ultra-long-distance image transmission, data transmission and flight control;

The handheld remote control is light in weight, small in size, and easy to carry.
Technical Specifications

Channel

19-ch

Operating system

Win10

Communication frequency

800MHZ/1.4GHz/2.4GHz

Touch pen

Active capacitive touch pen (optional)

Display

7inch IPS 800CCD

Remote control distance

5-10km (subject to the environment

Resolution

1280× 800

RF power

250mW (adjustable)

Processor

Intel Celeron N3160

Remote control delay

10ms

RAM

2GB/4GB DDR3

Battery capacity

7.4V/4000mah

Storage

128GB

Battery working time

Work at full load for 1 hour

Weight

About 1000g

Dimension

259mm*157mm*87mm
GCS Ground Station Software(English version optional)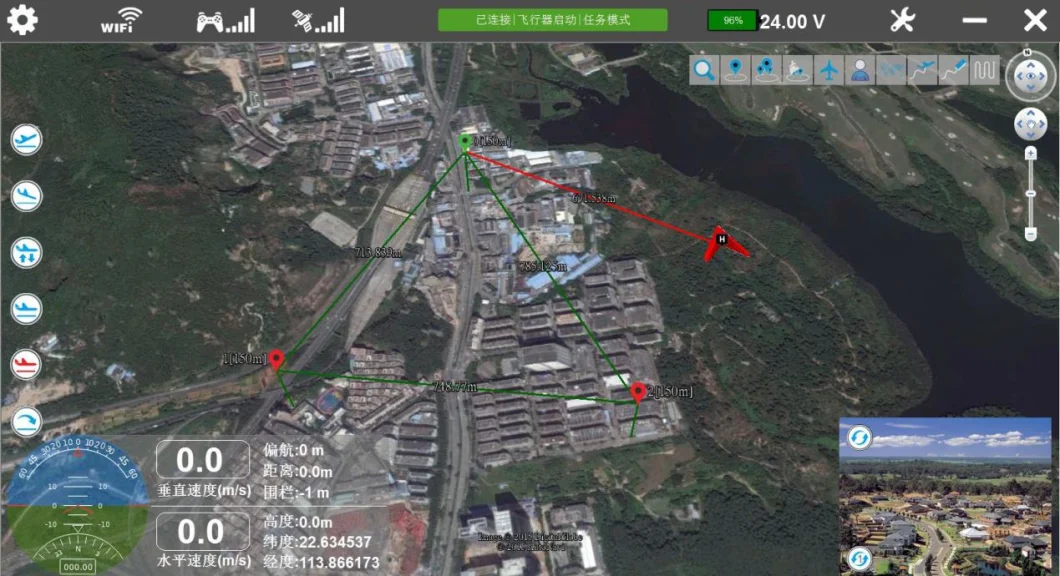 Real-time video display and Google Earth map view at the same time, aircraft location positioning

Google Earth full screen display, accurately set waypoint tasks and support real-time modification of waypoints

Support one-button take-off, one-button cruise, one-button return, one-button landing, emergency landing and other shortcut keys with friendly interface

Flight path/critical event SD card storage and information playback to reproduce the flight process of the aircraft

Full voice alarm prompt, support automatic route planning, tilt photography parameter setting and remote manual control

Support H.264, H.265 HD real-time decoding with multiple code stream transmission protocols
Integrated Ground Station System SPELL-IG/A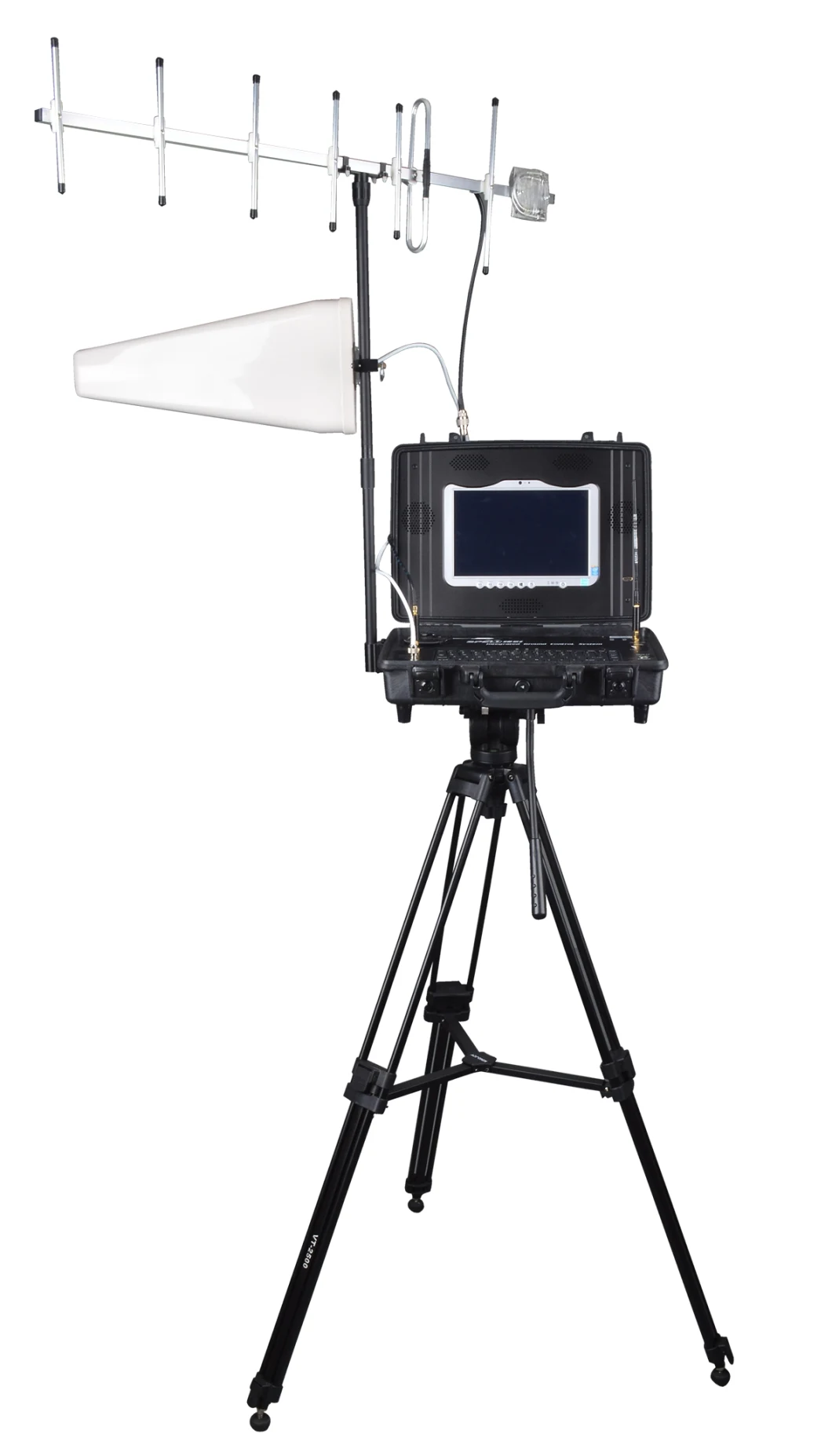 The SPELL-IG/A integrated ground station system can edit map waypoints, plan flight routes and achieve real-time flight attitude feedback. Designed for over-the-horizon flight, the product is used in emergency rescue, detection, aerial photography and other fields. The SPELL-IG/A integrated ground station system not only ensures the stable flight state and safety of the drone, but also makes the interface easy to operate. The drone can fly according to the flight route set in the ground station software in advance. The set route could be modified in the ground station software during the flight to achieve autonomous flight.

The system adopts a portable suitcase design, which integrates digital radio and video transmission modules and can be quickly deployed and installed in a short time. The ground station features a high-brightness display that delivers crisp images even in bright light environments. The device has a built-in high-definition video receiver, which can display the aerial picture in real time on the display screen and with a voice prompt function, which makes the operator more targeted when performing tasks.

Features
The ground station system uses the Intel i7 processor, which has powerful performance and smooth operation;

High brightness display, low reflectivity, visible under strong light;

Keyboard with touch pad and left and right mouse buttons for easy operation;

Built-in 900MHz digital radio with automatic frequency hopping capability to effectively avoid external interference;

Receive high-definition video of the transmitter on the aircraft and real-time display it;

Support HDMI high-definition video output, can be used to connect large-screen display;

Support local and front-end video recording and storage;

Suitcase-style structure with tripod support, small in size and light in weight;

Equipped with high-gain antenna to increase the distance of video transmission and digital radio.
Technical Specifications
Ground station motherboard

CPU

Intel i7 processor

RAM

4GB

Digital radio

Frequency range

Frequency range 902-928MHz

Power output

100mW-1W

Receiving sensitivity

≤-101dBm@115200bps

Interface baud rate

115200bps

Air baud rate

230400bps

Video receiving

Frequency range

170MHz-850MHz

Receiving sensitivity

≤-92 dBm@8MHz
≤-95 dBm@2MHz

RF bandwidth

2/4/6/7/8MHz optional

Output interface

USB

2

HDMI

2

LAN port

3

Display screen

13.3 inch

Resolution 1920x1080, highlight with touch function

Power supply

Working voltage

DC19V

Working current

≤4.4A

Working time

>4.5 hours

Battery model

BP-4S4P-3400

Battery nominal voltage

14.4V

Battery capacity

13.4Ah

Battery charging voltage

16.8V±0.05V

Battery charging mode

CC/CV
(constant current / constant voltage)

Battery charging current

2.5A±100mA
Brief introduction drone marine surveillance use



Through wireless data transmission link, the drone with different mission payloads can transmit the site information not only to the information processing and analysis system on the ground station that can forward the target information to the command center simultaneously, but also to the nearby cruise ships for quick response to the tasks. By dynamic surveillance and real time tracing on the maritime emergencies, ocean disaster and change of maritime environment, it offers real time field data for marine forecasters to make rapid alert, providing a scientific decision basis and solution for the maritime management department.





Regular patrol ships have disadvantages of low speed, narrow view, long patrol intervals and big limitation to natural conditions. Manned patrol aircrafts are influenced by the restriction of air traffic control with high use cost. However, the drone for maritime patrol features for low purchasing cost, low ground support requirements, strong maneuverability and no personnel security risks. More importantly, it offers a broad view, fast reaction and high work efficiency. The sea, the land and the air trinity comprehensive coverage can be realized when cooperated with Vessel Traffic System( VTS), patrol boats and law enforcement vessels, pushing the maritime static supervision gradually to the three dimensional supervision mode with dynamic static integration.





Marine environment surveillance


Spilled oil monitoring: cooperate with the sea patrol boats to make surveillance on the oil field work boats by using the drone to gather evidence of the spilled oil and chemical accidents. According to the task equipments like sensor and so on, the drone enables to monitor the sea pollution drift and diffusion situation, locate the sudden oil spill, and to estimate the oil spill area and drift path.

Emergency action: after oil spill and chemical accident, the drone can arrive at the accident scene at regular time and real time transmit the field scene to the command center.

Emission monitoring: through irregular night inspection to restrain night concealed emission.



Animal protection: irregular patrol on the protection sea for timely detection of stealing and poaching behavior.





Red tide monitoring and analysis: locate red tide area and ration red tide area.



Aftersales service
Offer local pilot training. Training course includes drone theory knowledge,field demo,practical flight training,drone maintenance and so on.